Civil Mediation Attorneys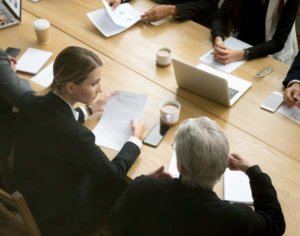 Similar to divorce mediation, civil mediation brings conflicting parties together with an impartial person, a mediator, who helps them negotiate and resolve their differences.
In mediation, the decision is not up to a judge but rather decided by the parties involved. The mediator does not rule in favor of, or against, anyone. Instead, the mediator acts as a neutral referee between the opposing interests. The mediator suggests ways to bring the parties' focus to the real issues at hand to resolve conflict, rather than trying to "beat" the other. A mediator attempts to seek compromise from each party during the mediation process.
Mediation generally begins with a joint meeting of all parties, where the issues are outlined and what is important to each party and their respective positions is determined. This allows the parties to voice their concerns to each other and allows the parties to see what the problem is from the other's perspective. Everything that is said in the mediation process is confidential. Nothing said can be used against either party in any other proceeding if the mediation does not result in a settlement.
In most civil cases, mediation is often required as a first order from the court. At mediation, a neutral mediator helps the parties facilitate resolution through informal and confidential negotiation.
Mediation is most effective once the parties have exchanged financial affidavits, mandatory disclosure, and discovery in general. This allows each party to have and consider all of the information available and allows the mediator to effectively work towards a resolution based on the information available. However, it is not necessary and our experience has shown that a successful mediation can be completed at any stage in the litigation process.
We are ready to work for you!
When you contact our firm, we will schedule a no-cost, confidential consultation. During this initial meeting, we will get to know you, uncover the details of your case, and educate you on what to expect.