Contested vs. Uncontested Divorce?
Your Options in Divorce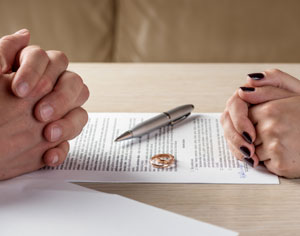 If you want to file divorce, you have two options:
You can negotiate an out-of-court settlement agreement for your divorce
You can take the case before a family law judge for a trial
In either scenario, you need a divorce attorney who can guide you through the process and work to achieve the best possible outcome for you. Whether you are determined to pursue an uncontested divorce or fight it out in a courtroom, we are ready to put our skill and dedication to work for you.
The Advantages of Uncontested Divorce
It is almost always preferable to pursue an uncontested divorce if possible. In an uncontested divorce, you and your spouse will work together to negotiate a set of agreements concerning matters such as:
child custody
visitation and child support
division of assets
payment of spousal maintenance
The negotiated approach, also referred to as "no-court divorce," is advantageous because it allows the divorcing parties to remain in control over the process and decide the terms of the settlement agreement.
The Advantages of Contested Divorce
In the event that your relationship has deteriorated to the point where you and your spouse cannot constructively work together, uncontested divorce may simply not be an option. Contested divorce, however, is not necessarily a worst-case scenario. One of the major advantages of contested divorce is that, because it takes place in a courtroom, it allows the parties to file motions for discovery. You will, for example, be able to compel your spouse to disclose any and all financial assets that may be hidden and to which you may have a claim.
Take the first step in your divorce now by contacting our office for a $75 case evaluation. We are ready to meet with you and answer all your questions about the situation. While we always pursue an uncontested divorce whenever possible, we do not hesitate to fight for our clients in even the most hotly contested litigation. This may be an enormously stressful experience for you, but it is not one that you must face alone. Let us help you!
We are ready to work for you!
When you contact our firm, we will schedule a $75 initial confidential consultation. During this initial meeting, we will get to know you, uncover the details of your case, and educate you on what to expect.